15 Aug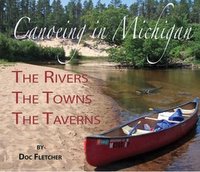 Doc Fletcher's book Weekend Canoeing in Michigan: The Rivers, the Towns, the Taverns isn't your average canoe guide. Allow us to enumerate a few reasons why:
#1 — For each river described, it lists the area radio station carrying Detroit Tigers' games.
#2 — It reviews at least one local watering hole along each river.
#3 — It offers a multi-song soundtrack for each trip – heavy on the country and classic rock.
#4 — It offers "river quotes" for each waterway. (The Pere Marquette River's: "Camping without beer is just sleeping outside.")
Finally, it rates the difficulty of the rivers it describes with illustrations of a shirtless paddler canoeing with an open beer:  paddler asleep, reclined, feet up on the cooler = easy; paddler attentive with his open can resting on the cooler = tricky; paddler, ice, beer, and cooler tossed from the boat by a hidden boulder = veteran.
Get the picture?
If Weekend Canoeing has a target demographic, it's those big, loud parties that drink their way down a river while their bellies sunburn and their cigarettes fall into the water. It's a canoe guide for the groups you'd hate to run into on a quiet river.
Never felt that way yourself?  Then, Weekend Canoeing might just be the book for you!
Weekend Canoeing is a fun read and not a bad source for info on 20 popular Michigan rivers. There's good, basic river and outfitter information for day-trips all across Michigan.  (Stick with Jerry Dennis' and Craig Date's Canoeing Michigan Rivers if you prefer a more, um, sober guidebook that covers move rivers in greater detail — and with maps.)
Still, Weekend Canoeing's unselfconscious, do-it-yourself style – under-edited copy, posed photos of the author's paddling pals (often shirtless), recurring Pabst Blue Ribbon references – is somehow forgivable and, often-as-not, charming in its way. The book succeeds precisely because Fletcher doesn't write the book the way a polished, professional guidebook author would.
So, if you're curious about how the other-half paddles – and how they tune in their Tigers' games en route – pull up a bar-stool and check out Weekend Canoeing in Michigan.