9 Apr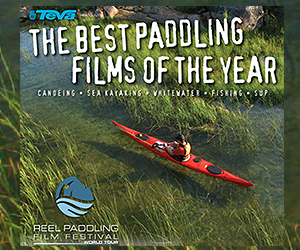 Midwest Mountaineering's Outdoor Adventure Expo is practically an annual rite of passage–the surest sign of spring in the Twin Cities and, with this year's unseasonably warm temps, an unofficial start to summer.
This year's expo takes place April 27 – 29, and it's sure to attract more than 10,000 people with the best sale of the season and more than 120 inspiring presentations. No doubt, there's plenty to love at the Expo–but as avid canoeists, we think a few events make it a paddler's paradise:
We love the worlds largest canoe and kayak auction. Worth checking out if you're in the market for a canoe, but also a great way to pare down your fleet. So spruce up that old Chestnut in your garage and bring it to the big top tents across the street from Midwest Mountaineering between 7 and 9 a.m. on Saturday.
The Reel Paddling Film Festival is pure inspiration and adrenaline rush. $10 is a small price to pay to travel the world by paddle–all from the comfort of the Humphrey Center Cowles Auditorium. Films from around the globe feature flat water and white water adventures, and are guaranteed to get you itching to paddle yourself. Watch the trailer here.
Amy and David Freeman are an outdoor wonder couple. In 2012, they embarked on a three-year, 11,700 mile journey across North America by kayak, canoe, and dogsled. They're giving three different presentations at this year's expo: paddling the Peel River, kayaking the Inside Passage in Alaska and paddling across Canada.
So check out the Expo, and while you're there, stop by the Canoeing.com booth and tell us about your latest canoeing adventure!