28 Aug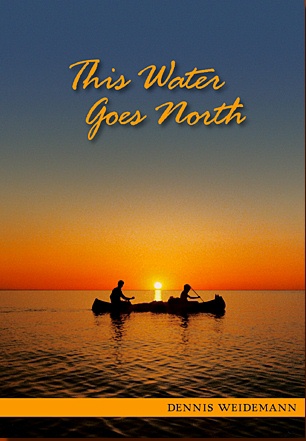 Three days into a 1979 canoe trip intended to take Dennis Weidemann and three companions from western Minnesota to York Factory on Hudson's Bay, disaster struck.
Rounding a bend on the Otter Tail River, Weidemann and his bowman were face-to-face with a fallen tree straining the cold, fast water for three-quarters of the river's width. Short on skills and paddling a loaded, lumbering Alumacraft canoe, the Iowa college students could not avoid the sudden obstacle.
"Slamming into the tree broadside, branches caught our shoulders, and the canoe flipped, toppling us into the water on the upstream side," Weidemann remembers in his new book This Water Goes North. "Taking a quick breath, I hit the frigid water and was immediately pulled down into the underwater labyrinth of limbs. Pinned against the tree and under the canoe, pulling upward to the surface was impossible. The powerful water kept driving me down."
Luckily for Weidemann and his canoe-mate, the canoe filled with water and plowed through the branches – "like a waterlogged bulldozer" – giving the lucky young paddlers a second chance after encountering one of paddling's most deadly hazards.
It was a fortunate near-miss for readers as well, as This Water Goes North is a pleasing story of young men embarking on the trip of a lifetime. Shaking off the accident on the Otter Tail and enduring high water on the Red River, the moods of Lake Winnipeg, and the daily challenges of a 1,400-mile-long expedition, the foursome achieves its goals and has fun doing so.
Wiedemann storytelling style has a gentle, modest grace. He was reluctant to write the book, he says in the preface, but came to realize that one person's adventure can fuel another's imagination. "If four yokels from down the street can go canoeing and come home with a story to remember, then anyone can," he quips.
The book is illustrated with color photographs from the trip but, alas, not with maps of the route, a common shortcoming in canoeing books. Weidemann's story of the trip is nicely paced. An epilogue collects thoughts from people who encountered the paddlers nearly 30 years ago, although where-are-they-now profiles of Wiedemann's trip-mates would have been more welcome.
For a fine story about the dreams, resilience, and joys of youth – and youth remembered – This Water Goes North is a trip well worth taking.