14 Sep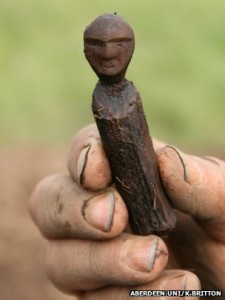 Whether or not we'll all be lucky enough to paddle the Far North, we like knowing it exists as a canoeing destination. It's kind of like Everest or Denali to mountain climbers. That's why we're keen on learning about environmental changes and what they mean for the delicate tundra landscape.
Permafrost–a layer of permanently frozen soil just below the surface of the ground–plays a big role in the Arctic. In his book Let Them Paddle: Coming of Age on the Water, author and arctic paddler Alan Kesselheim writes about how the permafrost helps keep lakes as lakes. As it melts, lakes can actually shrink.
Now, the melting of permafrost has presented archeologists in Alaska with an interesting conundrum. As the ground erodes, more than 7,000 artifacts from the Yup'ik Eskimo have been discovered, allowing researchers to document their culture and lifestyle. According to a BBC article, scientists are even analyzing hair to understand diets and how the Yup'ik adapted to things like climate change.
But in many ways, their work is a race against the clock. The same melting permafrost that allowed these artifacts to be found threatens to eradicate them. Sea ice is at a record low, and storm cycles are longer than ever. If things erode too quickly, the artifacts (and their insights) could be lost. Read the full article HERE.